The Rough Road to Good Skin.
Right now, I can't be bothered with my makeup 'cos let's be honest here, makeup only looks good on skin that is good. Makeup looks best on people who use makeup because they WANT to and not because they NEED to.
There is a massive difference there.
I have to admit that I have an unshakable reliance on makeup to basically help me appear better than I usually do (which is horrible, FYI). I know I sound like I'm inviting the Pity Party but it is not an exaggeration to say that I have been on the quest for good skin even since my teens and it got far more intense as I became an adult. Especially so when you are SURROUNDED by people with great skin. That would be, a self-reference 'cos all my friends have such lovely skins. They are the infuriating type of people who can just wash their faces and look amazing. You know, the ones who can just step out of the house without makeup and look just as bit as gorgeous as when they step out with makeup.
Ohhh, yes. I know you know at least some of them.
And it's not their fault that they are blessed with great genes. They can help when it comes to helping us feel less inferior and help us find solutions to our own problematic skin. The best thing to do, I say, is to stop comparing. It's good to admire and compliment BUT NEVER compare. 'Cos that may eventually lead to depression. LOL. Acceptance would be the next step before we try to figure things out.
Indeed, I have accepted my skin and the massive changes that occurred in the past year.
I accept that my skin was not as low-maintenance as it used to be and I have to be careful (to the point of paranoia) on what I slather on my face. Upon doing this, I have been trying to find my way in the dark, with regards to my skincare routine.
It is important to stick to a routine, for us normal people as it would help with the maintenance of our skin. Of course, there is no need to stick to a routine RELIGIOUSLY. It is good to switch it up, and use different products depending on what your skin needs at that moment.
The most important step for me is Cleansing.
Cleansing is the foundation of all skincare and it is a must for everyone 'cos it takes the crap out of our faces and cleans our skin. Not just for beauty purposes but for basic hygiene. The basic is to cleanse at least once a day. Though most women do it twice. Once in the morning to get rid of all the oils we built up during our sleep and also to remove last night's products (such as moisturizers) from our faces. Second time would be at night when we remove the day's makeup. People with oilier skins might even cleanse their faces several times a day. This is fine, as long as we are using cleansers that are suitable for our specific skin types and restores the balance of our skin. Our skin should NOT feel tight or too squeaky clean after cleansing. It should feel refreshed and comfortable. Otherwise, you are NOT using cleansers that are suitable for your skin type.
I have used a BAZILLION cleansers. I have rarely ever repurchased the same cleanser, unless I am tight on money and just pick the cheapest one. And it's so hard to find the perfect cleanser that helps keep my acne at bay and cleans my skin.
Some that I have used:
Bio-Essence Deep Cleanser
This is an Asian brand, if I am not wrong and it is a very simple foam cleanser. I actually repurchased this several times 'cos my mom likes this one. And we used to share cleansers (before my skin went crazy). At the time I wasn't too bothered with ingredients. I generally prefer foaming cleansers 'cos they feel like they are REALLY cleaning my face. Scent is mild and nice and it does a good job of cleaning my face. Very basic cleanser, leaves my skin feeling squeaky clean, which I used to love as teen as my face was especially oily then.
The Body Shop Seaweed cleanser
I remember buying this, thinking it would be amazing as it was pricier than the usual cleanser I used. This was when I started to get into skincare. It's supposed to be balancing for oily/combination skin like mine. It does not lather up alot, or at all. And leaves a film behind when I washed it off. Like there was some residue on my skin. I never felt completely clean using this cleanser and had to use a toner after to really make sure I got everything off my face. I did break out from using this line of products, so I can't recommend it but who knows? Skincare is a very personal thing.
Hada Labo Foaming Wash
Comes in a simple white tube. You only need a teeny tiny bit of this for it lather spectacularly into the most luxurious foam. A tube of that lasted me AGES. I bought this due to the huge Japanese Skincare phase that I had 'cos everyone was raving about this popular brand in Japan. It was pricier than the previous two cleansers, but I have to say it lasts longer. So I can justify that. It features super hyaluronic acid that helps boost moisture in the skin whilst cleaning it. I used to love this stuff. Foams amazing and didn't feel like it was TOO drying and cleaned my face well. BUT, I did experience more breakouts when I was using this entire line (I was into the whole one brand, one routine thing 'cos I always thought a product would work better with its product-buddies).
I found the entire line wayyy too rich for me. Yet I never felt truly hydrated. Or cleansed.
JUJU Aquamoist Foaming Wash
THIS is AWESOME. I really preferred this one to the previous option and I even repurchased it after running out. It did not clog my pores but instead cleaned it very well. My skin felt very comfortable after using it and it never felt too tight or 'not clean'. It has hyaluronic acid in it as well but I felt that it provided a better clean and really helped get rid of my oils and makeup, without stripping my skin. It wasn't HYDRATING as they would say. I would prefer to say that this is very gentle and effective. Also you need a TEENY bit of this to create CLOUDS literally.
Neutrogena Liquid Cleanser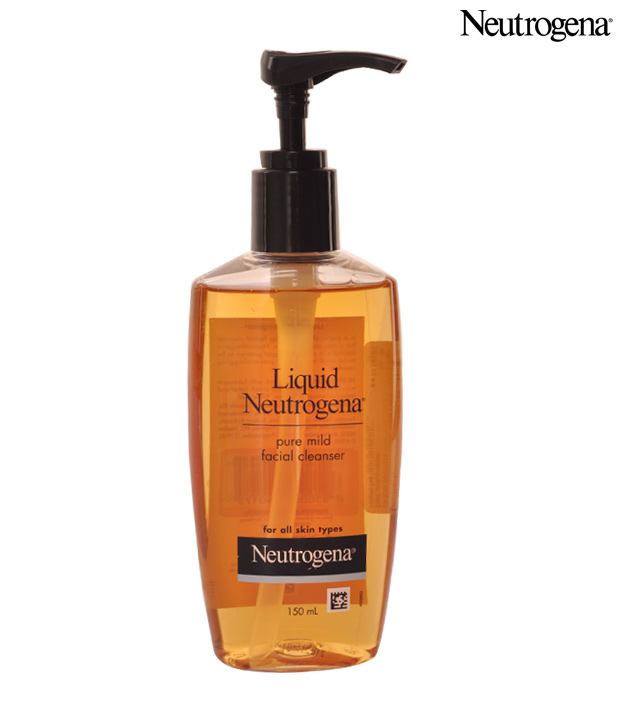 Comes in a cool pump. I didn't like this one. Though it says "deep clean", it didn't really feel very clean. Leaves behind a weird feeling, like there is smth on my skin. And didn't lather well. Which I wouldn't mind if it did it's job. My complexion got really dull, but I didn't experience any weird breakouts at the time using this. At least not any more that usual, so it didn't prevent breakouts either. It's just... meh.
Olay Total Effects Foaming Cleanser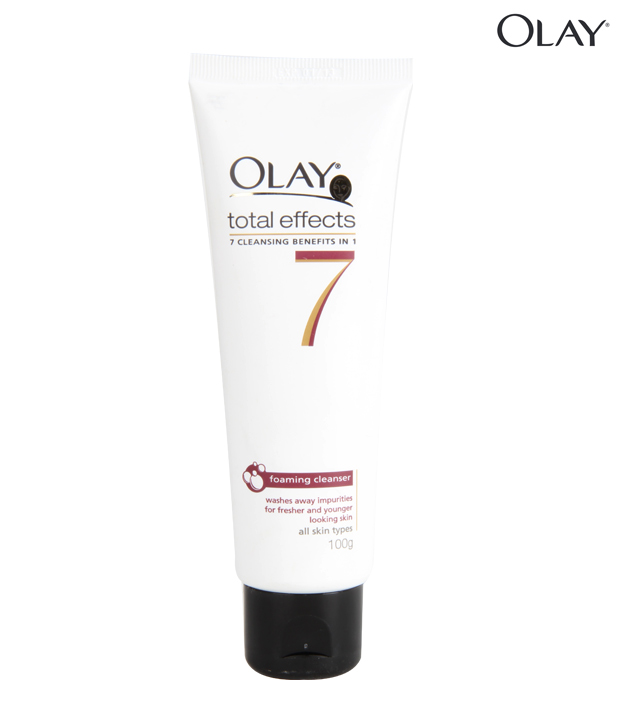 It's GREAT. Very gentle and my skin looks so clean and... bright after washing with this one. Though obviously, it didn't last long. Just in that time that I've washed it. I didn't break out. I dunno about its anti-aging claims. All I can say that it's a good standard cleanser.
SO...
AFTER ALL THAT...
My skin went crazy after this point at about the end of 2010 all the way. I got full blown acne. And was at a loss of what to use.
The BEST cleanser I found that really helped me during that time was:
Ducray Keracnyl Foaming Gel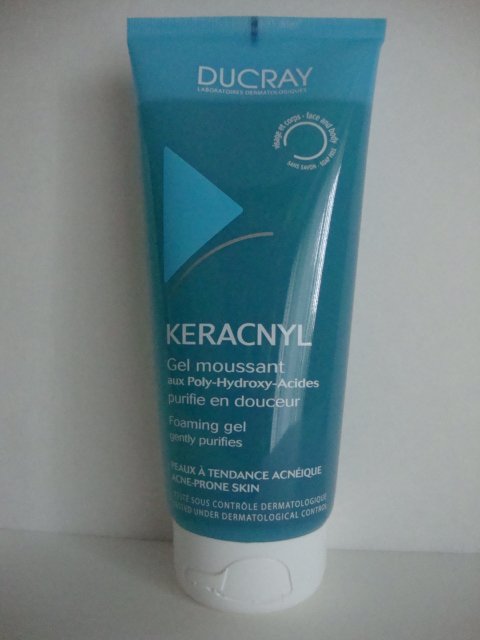 This can be used on your face and body and is soap free. Which is FANTASTIC for my sensitive skin (before then, my skin was NOT sensitive at all) as it did not aggravate it. It cleans my skin soo soooo sooooo well without leaving it tight and uncomfortable. My skin literally was touchably smooth and silky after using this product. Absolutely amazing. This was probably the best gel/foaming cleanser I've ever used, hands down. 'Cos I could see a difference in my skin when I was using this. It helped control my breakouts too.
But thanks to a a topical cream I was given, I had really bad rashes all over my face. Being allergic or having a negative reaction to benzoyl peroxide. My face was itchy, flaky and red. IT WAS HORRIBLE.
So I had to stay away from foaming cleansers as they often contained foaming agents like Sodium Laureth Sulphate that can aggravate super sensitive skin. Thus, I was introduced to:
Avene Extremely Gentle Cleanser for Intolerant Skin
This is the weirdest thing for me. It's a gel cleanser that I rub on my face and tissue-off. As in NO WATER. I was like whuuuuutttt?! That is absolutely disgusting! How can I NOT use water?! Especially so in Singapore where it's so freakin' hot & humid. But the water actually stings my face and so I had to use this. As the name suggests, it's super gentle. I dunno how well it does at removing makeup ('cos obviously I wasn't wearing makeup when I had the rash), but it removed oil and dirt of my face very well. And I didn't break out AT ALL from using this product. Which is SUPER surprising 'cos I thought this would totally clog up my pores and be too rich for my oily skin. So, I ended liking the product more and more and CONTINUED to use it even after my rashes cleared up. And it was REALLY GREAT! So gentle and perfect for lazy days too. I just rub the product in my face and take damp cotton pads and gently wipe it off my face.
'Cos this type of cream cleanser was working well, and I had another reaction to another acne cream I used. I tried to find a more 'natural' alternative. At this point, I was trying to go into a more natural path for my skin.
Lush Ultrabland
This is an oil-cream cleanser. It's much oilier and denser in consistency as compared to the Avene one. And at first I thought it was WAY too greasy. But it did leave my skin so moist and comfortable. I found that the best way to use this product is to take a small amount and massage it into my skin. Like REALLY work it in there and then wipe it off with cotton pads that is soaked in TONER. It's like 2-in-1 step. And leaves my skin feeling so clean and not as greasy as when I just used a damp washcloth. This worked really well at calming my rashes and cleaning my skin gently. Also helped with getting rid of some of the stubborn whiteheads I had all over my forehead and chin.
My skin was in MUCH better condition when I used cream cleansers for some STRANGE reason. And I've always stayed away 'cos I thought they would break me out. 'Cos I'm oily! Turns out my skin is super dehydrated. My skin is so much more plump and firm now as compared to before.
Currently, I'm using
Sukin Organics Cream Cleanser
.
And I AM LOVING IT. I initially bought 'cos I can't afford the Lush Ultrabland, just way too expensive for me. And it didn't give me great results after continuous usage. Better results than using any of my previous foam cleansers though. Anyway, I think Sukin's a better fit for me 'cos it's not as rich and oily. It literally feels like moisturiser. Such a weird feeling. Gonna take me awhile to get used to this one. I've only used it for a week, so I can only review it later.
So far, I can say it smells divine. And my pores look smaller and my skin is softer. It's really lovely so far. We'll see how it goes.
AND THAT IS MY CLEANSER JOURNEY. I actually tried much more, but these are the standouts, I guess? I tried Biore, Simple, Ponds... etc. What I'm saying is, you never know until you've tried. I know it's so hard 'cos I literally am terrified that smth might set off my acne again. But the only way of learning is through experience. I would never have imagined that cream cleansers would work so well for me, until I tried them.
So there you go!
BE BRAVE.
xoxo,
H.
Labels: cleansers, review, skin diary, skincare
Older Post | Newer Post